The Future of Hollywood
Hollywood Is Now Facing Setbacks As Movie And Television Series Productions Are Being Put On Hold
Businesses are not the only ones being affected by the coronavirus pandemic. Hollywood is also facing the consequences of the pandemic.
How Have Studios Been Dealing With The Pandemic?
Studios have been more cautious, especially about making changes to their schedules. Warner Bros. has moved "Wonder Woman 1984" off its June 5th premiere, but the superhero sequel is still set to come out in August later this year. Meanwhile, many studios are simply just waiting out the pandemic. Disney has already postponed summer films like Marvels' "Black Widow" and Pixar's "Soul", while Walt Disney Studios' live-action "Mulan" has already been moved from its spring release to July 24. Most films that we anticipate are being postponed, to almost a year for release, like Universal Pictures' "F9" to April 2021. Some studios have even considered releasing on smaller platforms like "Disney+" and "Netflix". Release dates are not guaranteed, but the studios are taking preventive measures to get back on their feet.
Despite the desire for Hollywood to make its return, industry leaders have stated that they will get back up slowly and gradually, starting with smaller productions. During this time, many shows would be wrapping up pilot seasons, but now sets and studios are becoming ghost towns. 
Bryn Sandberg of The Hollywood Reporter says, "We're likely to start with smaller productions, because it would make sense because there are fewer people on set, it's easier to socially distance. It's unlikely you'll see crowd scenes in the foreseeable future."
There are an estimated 700,000 jobs and 5,000 small businesses are directly dependent on the entertainment industry. Many of those jobs will be brought back slowly, but with only a few people on set at one time.
Future of Conventions and Ceremonies
Many annual events (such as ceremonies and conventions) are either being postponed or shut down until further notice. The Oscars are being postponed, and it is still unknown how the ceremony will be carried out. Other events such as VidCon, BAFTA, Emmy Awards, red carpet events, film festivals, even the Met Gala [which has not faced a cancellation since 2002 after September 11] are all being cancelled or postponed. No one knows how these events may be carried out in the future, but it will be a different reality than we are used to.
Shoulder to shoulder red carpet events and movie premieres will be restructured once they are brought back. Movies that debuted on a streaming service without a theatrical run will be eligible for the Oscars, but only for this year. The films must have already had a planned theatrical release.
What Happens to our Beloved Television Series?
During this quarantine, people around the world have huddled around their television at one point or another. Streaming services like Disney+, Netflix, Hulu, and even Youtube have become an essential part of everyone's quarantine. The sad news is some shows might be put on hold. For instance, Marvel Studios is putting a halt on their series on Disney+, as well as , Disney TV Studios are postponing all of their series pilots. For Netflix, many shows are being updated while others are leaving the platform, unfortunately.
'The Mandalorian' on Disney+ is doing surprisingly well during this time. 'The Mandalorian' was known not just for its storytelling, and its memorable charm of The Child (or as we know as Baby Yoda), but for its production, which relied on the aid of video game engines, real-time rendering and video wall technology to help transport audiences into a world of desert planets and spaceship cockpits. Favreau did not add these effects in post production, as is commonly done on CGI productions, but rather shot his actors against a video wall scenery. The technology, which allows filmmakers to place casts in far-flung locations without leaving a soundstage, has practical applications, but is particularly valuable during this COVID-19 era, when travel for shoots might or will become scarce. Favreau wrapped production of the second season of 'The Mandalorian' in early March, just before the pandemic led to a production shutdown. Fortunately, he is now at work writing season three. 
Final Thoughts
Truthfully speaking, it may best for these studios to take their time and adjust to a new reality of how things might have to get done from now on. While anticipating for new movies and new seasons of television series might drag me to the edge of my seat, we have to understand that the films and shows are not cancelled, just being temporarily put on pause. I can not wait for not just the entertainment industry, but for everyone and everything to get back on our feet.
About the Writer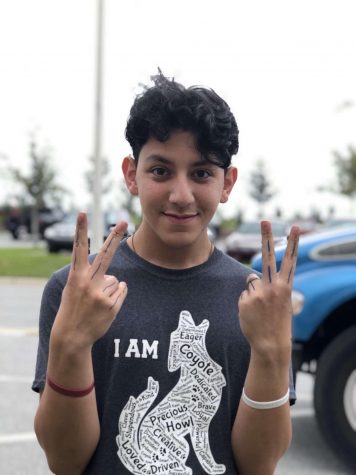 Patrick Deliz, A&E Editor
Patrick Deliz is a senior at Four Corners Upper School, in his second year with The Coyote Chronicle. While invested in the arts, Patrick enjoys photography...