Is This The End Of David Dobrik's Reign?
David Dobrik Issues Apology After Allegations Concerning the Vlog Squad.
David Dobrik Controversy 
According to Business Insider's report, in November 2018 David Dobrik and the Vlog Squad put out a call on social media looking for women to participate in asexual encounter with Dominykas "Dom" Zeglaitis . A group of seven college students responded via Instagram, which Vlog Squad member Jeff Witteck shared he took that as consent to any sexual activity that followed in his Frenemies interview. Not all of the girls in the group were aware who Dobrik or the Vlog Squad were, and made it clear they were not on board with participating in sexual acts with the men present.
 Dobrik explicitly lays this out in his video, saying in his voice over it was clear there was no sexual activity happening tonight. THe video then skips over the ensuing events, with David moving the timeline forward to an apparent change of heart from the women. He attributes this to a "stroke of luck and master negotiating".
Alcohol was supplied to the girls, some that were under drinking age. One of the girls blacked out and has patchy memories of the assault, but Dom entered the bedroom with her and one of her friends to participate in what the Vlog Squad video portrays as a "consensual" act. During the incident as depicted in the video, Vlog Squad members are filmed peeking into the bedroom and making unsavory comments on the activity inside. This was done without consent, although Wittek claims that nothing sexual was taking place at the time they were looking in.
Since these allegations began to surface, Dobrik has remained silent on the issue, allowing fellow Vlog Squad members to speak up on his behalf. Scotty Sire uploaded a video debunking Seth and Nik's claims which he later deleted. Sire shows text messages and the video Dobrik has provided to him for the content. After a massive backlash, Sire deleted the video and posted an apology to Twitter.
In an H3 podcast episode addressing Sire's video, Ethan Klein commented, "It seems like David used this guy [Sire] to get the best response. Clearly David knows that Scotty is making this video and it's supplementing him with information."
David Dobrik has been silent as victims shared their accounts and spoke up for the first time in his apology video uploaded to the VIEWS channel. The video is kept vague, and with no context (which he does not provide) it is not apparent what he's referring to in the video. While he names Joseth "Seth" Francois, he did not reach out to speak to him.
 Seth confirms this on his Twitter account, saying, "Not calling me to sincerely apologize man to man is equivalent to having me kiss a man without my consent." Dobrik's first apology refers to the Seth instance as 'missing the mark' but does not go any deeper than that. As the story gained traction, Dobrik's lawyers reached out to Business Insider, and attempted to discredit Paytas as a source, who was only contacted by the outlet to corroborate the womens' story. Paytas is not the one who levelled these allegations at the Vlog Squad. 
A post on the H3H3 subreddit by a survivor of sexual assault breaks down just how disingenuous Dobrik's apology is in the context of recent events, as well his awareness of his own behavior as well as other Vlog Squad members' which has been ignored. 
Dobrik seems to think his apology is sufficient, and has every intent of continuing to create content. "I'm going to take a short break from all the social media stuff because I realize that there's a serious lack of infrastructure when I make any kind of content. "And I want to be able to have a place of checks and balances, I want to have HR. And I want to be able to have people communicate discomfort in a way that's comfortable to them, and they don't feel like their emotions or what they're doing or how they're acting is compromised."  
About the Writer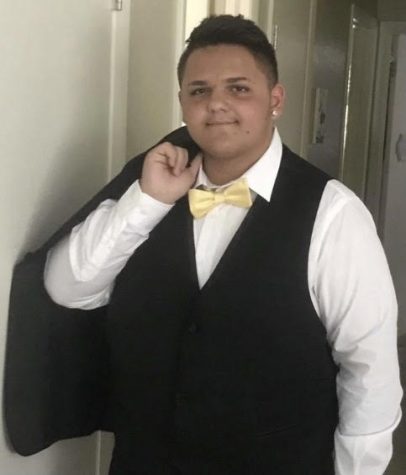 Nick Beri, Writer
Nick Beri is a junior at Four Corners High School and this is his second year working in publications but his first year on staff. Nick enjoys communicating...